LUMILOR ELECTROLUMINESCENT COATING
YOUR ROYAL ENFIELD WILL NEVER
BE THE SAME WITH EXCLUSIVE LUMILOR CUSTOMIZATION
You and your bike will get a distinct stand that
will make you prouder while riding it

LUMILOR PRICING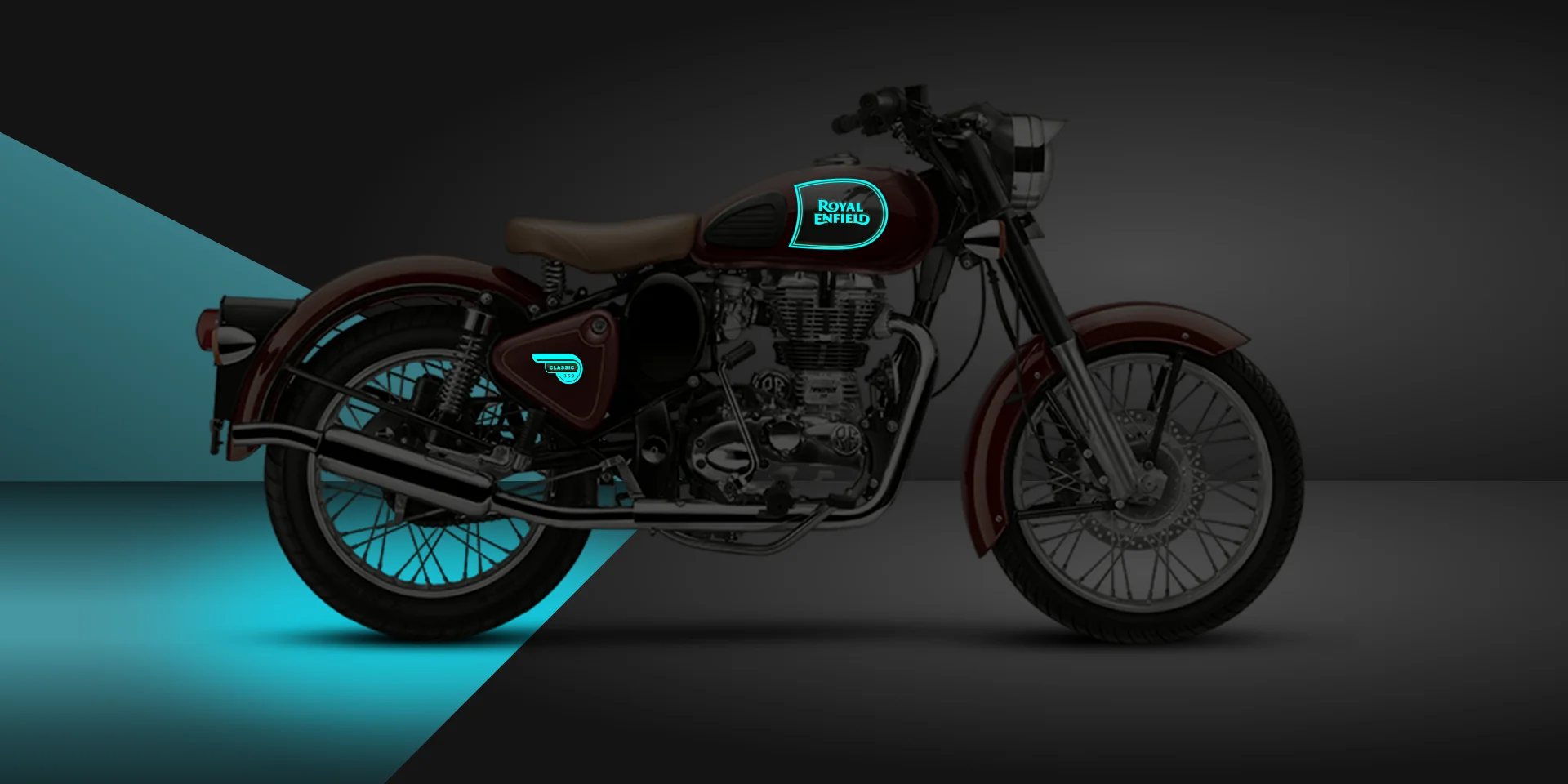 1

FUEL TANK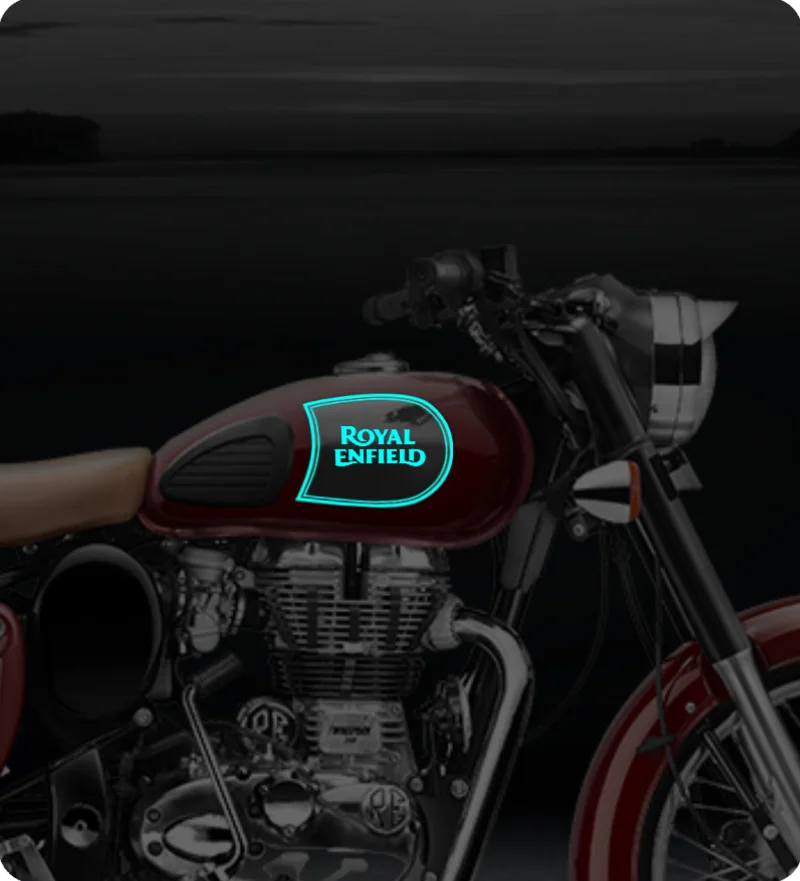 2

FUEL TANK & TOOL BOX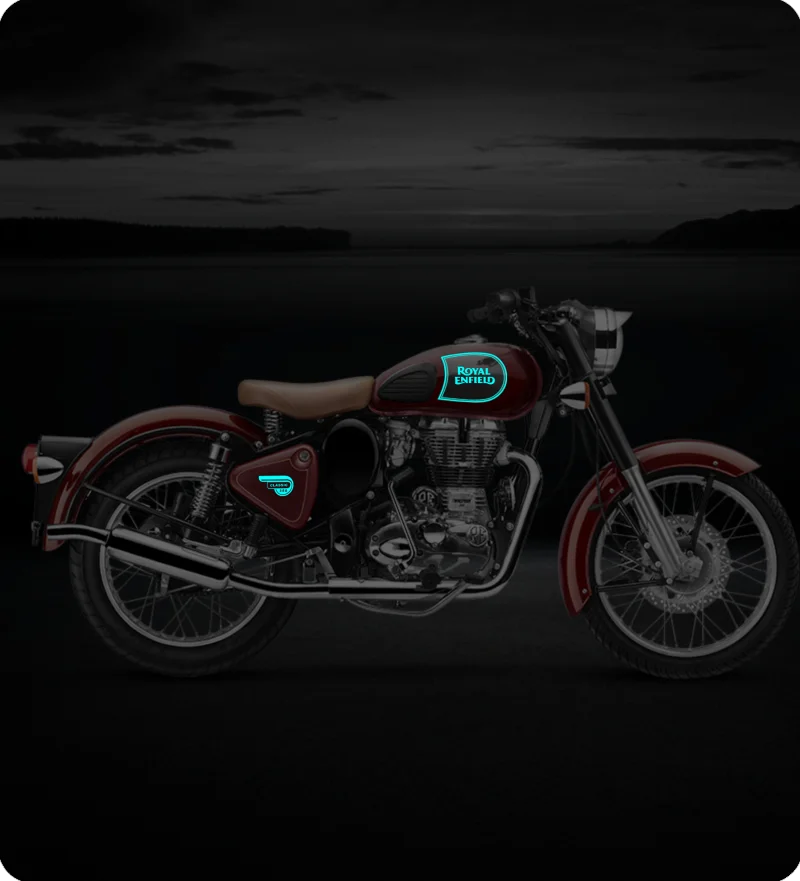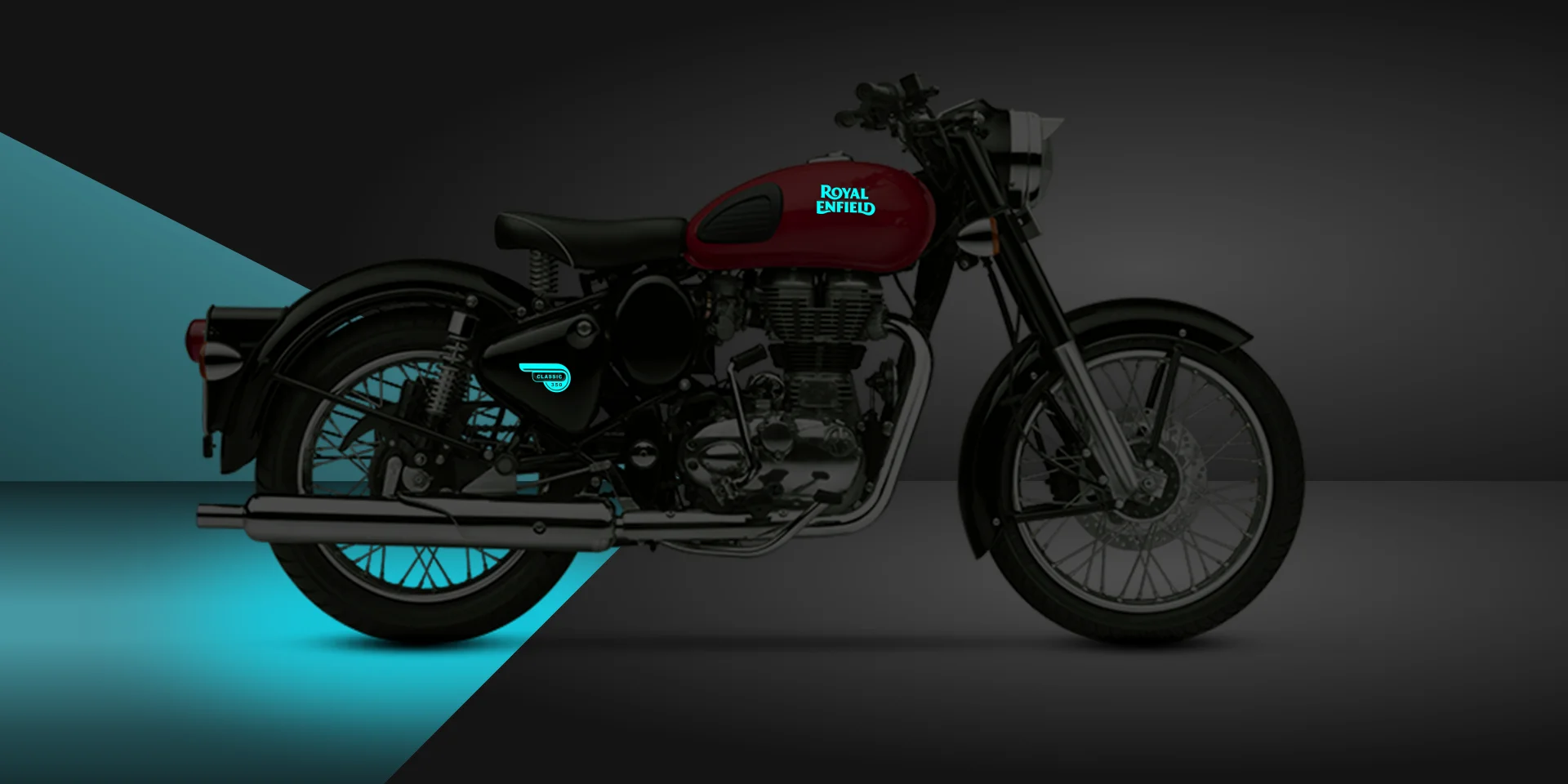 1

FUEL TANK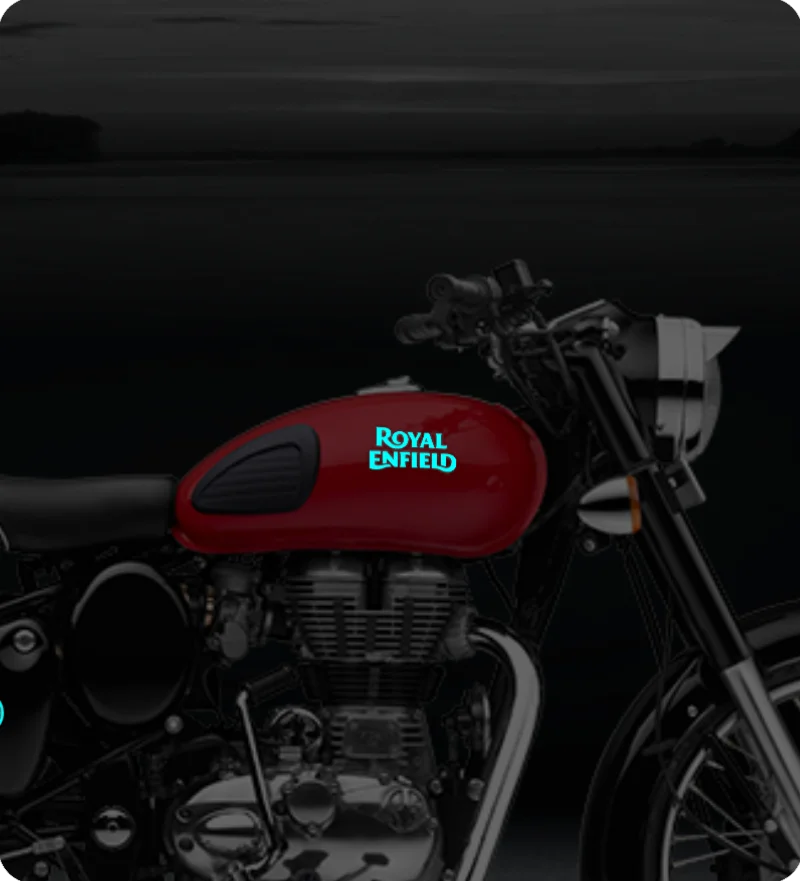 2

FUEL TANK & TOOL BOX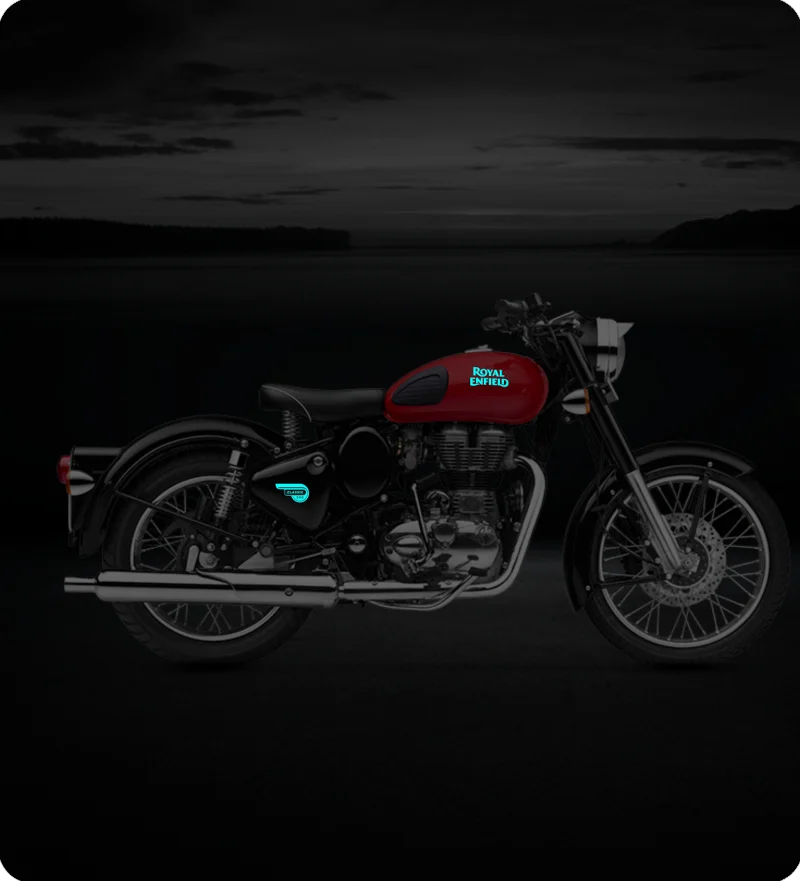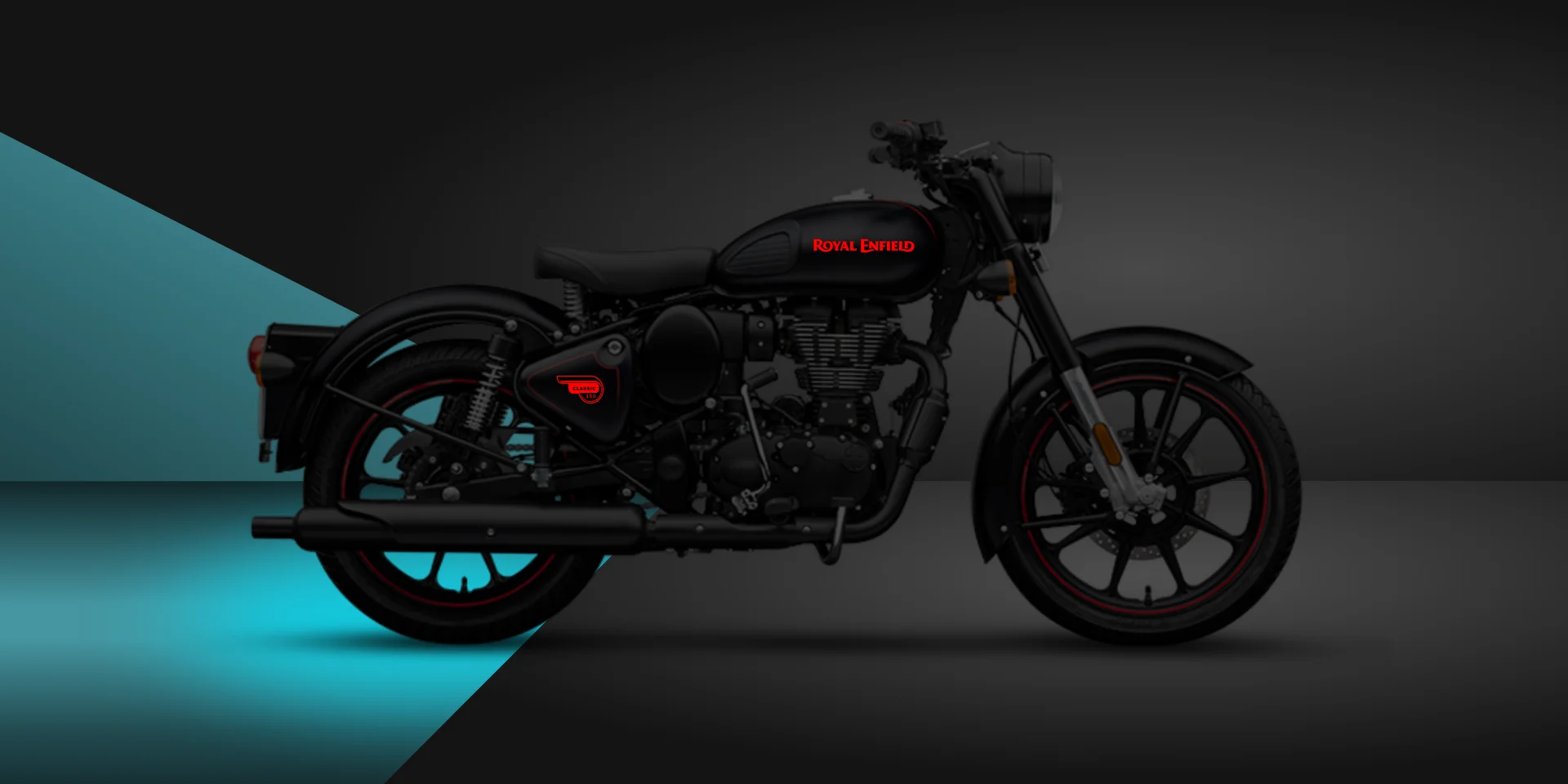 1

FUEL TANK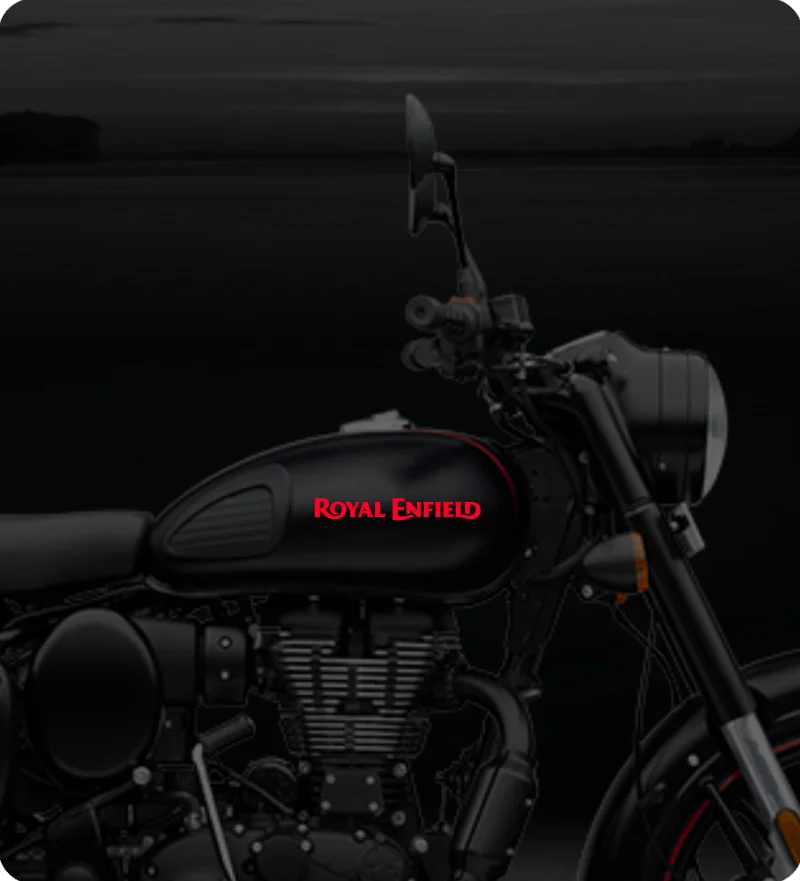 2

FUEL TANK & TOOL BOX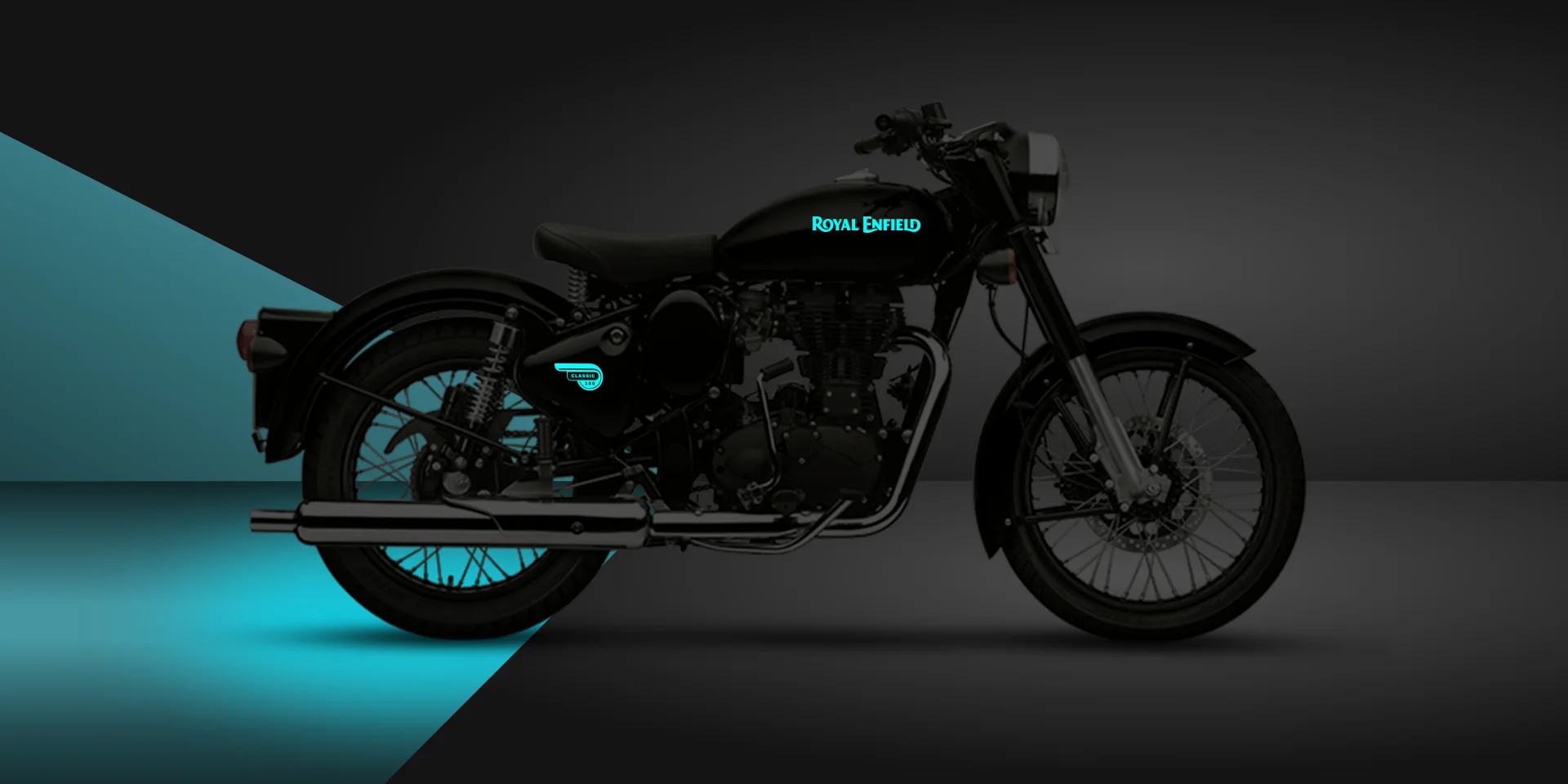 1

FUEL TANK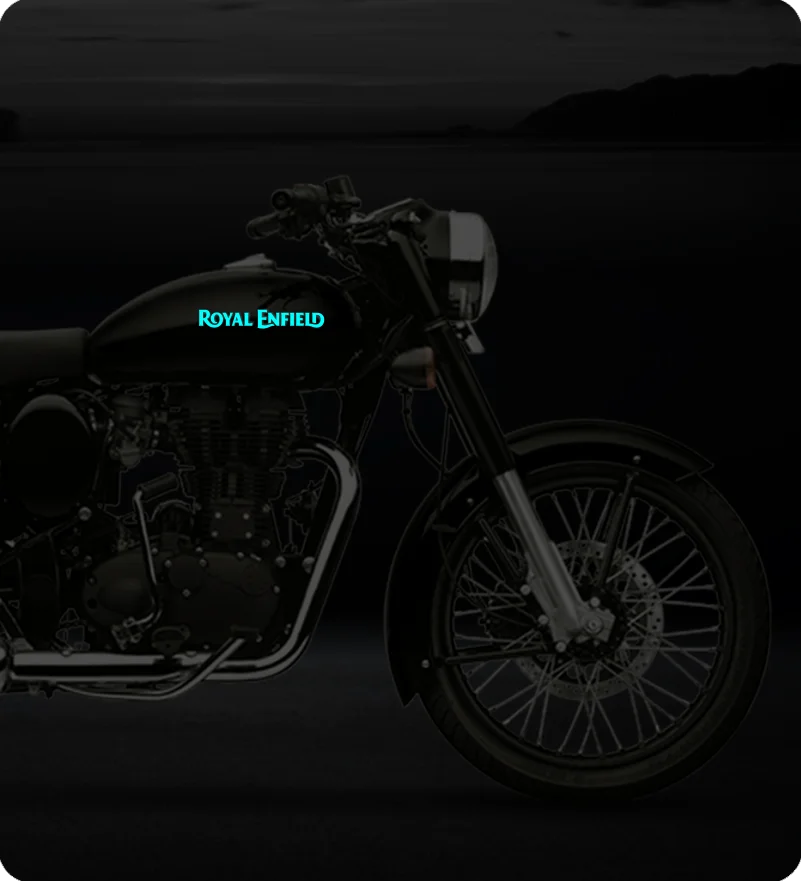 2

FUEL TANK & TOOL BOX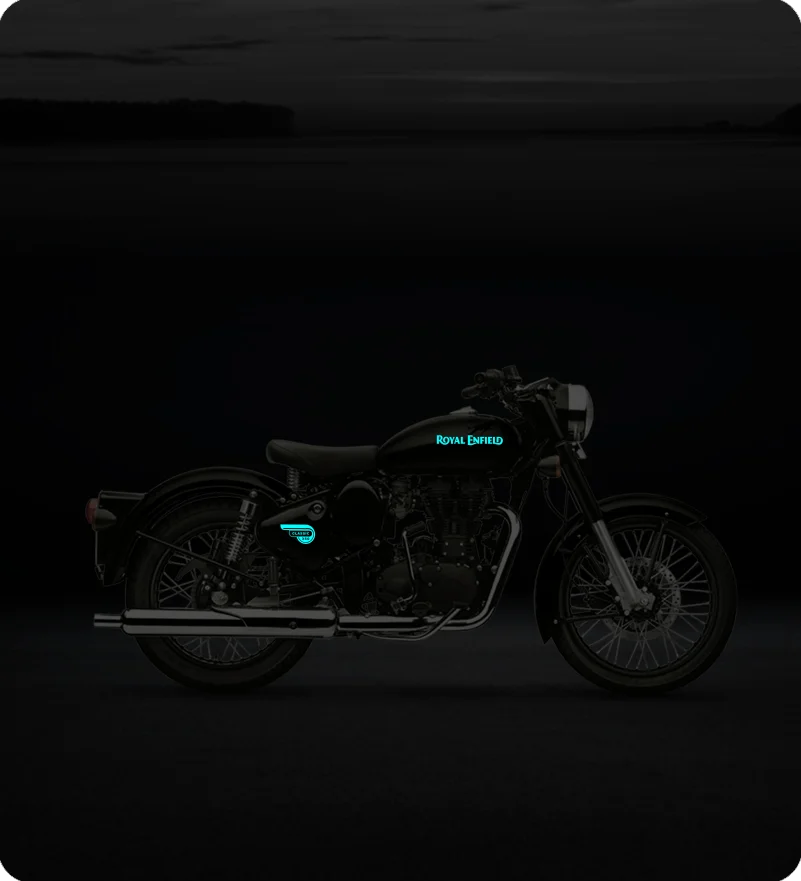 * All prices mentioned are exclusive of Applicable GST.
NO MORE RESTLESS AND LONG WAITING FOR YOUR
LUMILOR ENHANCED ROYAL ENFIELD.
GET YOUR ROYAL ENFIELD CUSTOMISED TODAY
AND GET IT JUST WITHIN 2 WEEKS*.
Ship the parts or simply visit us to get it done.
Q. What is LumiLor electroluminescent paint ?
A. LumiLor is a Light Emitting Coating (LEC)system which allows anything coated with it to illuminate. Electroluminescence simply means that an object is capable of emitting light when an electrical current is applied.
Watch this overview of how LumiLor works.
Q. How is LumiLor applied ?
A. The LumiLor Training Videos walk you, step-by-step, through the entire LumiLor application process.
LumiLor is applied using a professional high volume / low pressure (HVLP) paint system. The skills needed to apply LumiLor are similar to the skills needed to apply other professional grade coatings with an HVLP system.
LumiLor is a four layer coating system and includes processes and specifications which are unique to our patents.
Three to five hours is needed to apply all of the layers of LumiLor in standard conditions. LumiLor should be applied in an ambient temperature of at least 70 degrees Fahrenheit.
Q. What is the best way to get started with LumiLor ?
A. A LumiLor Starter Kit is the easiest way to get started with LumiLor. It provides the LumiLor paint, blank samples to paint, and basic electronics needed to follow along the online training videos.
Not ready to purchase a LumiLor Starter Kit? Consider purchasing a pre-painted LumiLor sample so you can see for yourself the what LumiLor is all about.
Q. What kind of support is available ?
A. The LumiLor Support Team is available to help you suceed as a LumiLor applicator. Support is available during standard business hours in India Time Zone of India. Application questions? Contact us at info@lumilor.co.in
Q. Does LumiLor come in red?
A. You want red LumiLor, we want red LumiLor, everyone wants red LumiLor. Why is there no red LumiLor? Red tones can be achieved by topcoating LumiLor with tinted clear coats or colored top coats such as candies and pearls, or even with hydrographics. This is typically applied on white LumiLor to provide the most true color effect. We are in the process of creating a video to show how red can be achieved. It will be posted soon on our How To page.
Q. What are the basic properties of LumiLor ?
A. Cool to the touch even when emitting light
Has a thickness of approximately 4.6 mils when applied according to specifications
Is flexible up to nearly 180 degrees
Sizes to be painted
A field (one 'light bulb' painted with LumiLor) should not exceed 3 square feet
Areas as small as ¼ inch can be illuminated with LumiLor (pinstriping, graphics, etc.). However, a minimum surface area of 1 square inch is needed to apply LumiLor.
Q. What kind of surface can LumiLor be applied to ?
A.
LumiLor can be applied to any non-porous substrate including but not limited to
Metal
Wood
Fiberglass
Carbon fiber
Plastic
Vinyl
Adhesion promoters with automotive clear coats can be used to apply LumiLor to substrates such as
Glass
Rubber
HDPE plastics
Q. How long will LumiLor last ?
A. The lifespan of LumiLor is dependent on how much power is applied and the native LumiLor color used. More power equals brighter light but a shorter half life. 'Half life' is not an indication of total useful life. LumiLor will degrade in brightness up to the half life, and then plateau. There are documented applications of electroluminescence using materials identical to the main components of LumiLor where the useful life of the product has been measured over 10,000 hours, and in some up to 50,000 hours. Charging and discharging LumiLor does not affect the half-life. LumiLor only degrades towards its half life when it is charged.
Q. What color is LumiLor when lit and unlit ?
A. LumiLor is available in five native colors, these are colors you see when LumiLor is lit.Green, Aqua, Blue, White, Orange LumiLor appears as a gray hue, similar to an automotive primer, when unlit. Topcoats (airbrushing, tinted clear coats, colored top coats, hydrographics, etc.) can be used to alter the appearance of LumiLor to create a desired effect.
Q. What equipment and supplies are needed to apply LumiLor ?
A. The following items are required for applying LumiLor and are NOT included in the training kit:
• Blacklight – wand, cannon, or bulb
• Well ventilated area
• Compressor, airlines and fittings
• HVLP gravity fed spray guns
• Automotive grade clearcoat
• Multimeter
• Respirator
• Nitrile gloves
• Red Scotch Brite pads 320-400 grit
• Rubbing alcohol
• Blue fine line tape 1/2″
• Green or Yellow masking tape 3/4″ and 1/4″
• Masking paper 3″
• Drill or Dremel with 3/32″ drill bit
• Tack rags
• Touch up brush pack – varies sizes
• Infrared heat gun 500-650 degrees Fahrenheit
• Timer
• Strainers 120-140 micron
• Mixing cups 8 oz or 32 oz
• Stir sticks- glass or plastic ** NO METAL OR WOOD **
• PPS system with attachments
The following items are recommended for applying LumiLor and are NOT included in the training kit:
• Spray suit
• Paint stand and cart
• Popsicle sticks (for J-B KwikWeld)
• Mixing plate (for J-B KwikWeld)
• 2 – Wash bottles (alcohol/thinner )
• Heat lamps and stand
• UV Goggles (when using blacklight)
Q. What about Research & Development or industry standards and LumiLor ?
A. We have invested over $4,000,000 in testing and certifying LumiLor to assure that, when properly applied, your paint job remains bright, and does not crack, peel, or delaminate. LumiLor is subjected to the harshest standards an automotive basecoat is asked to endure. We have demonstrated the ability to pass ASTM G154, where UV light and water vapor rapidly weathers a panel. We have run this test for over 400 hours without incurring a loss in brightness, adhesion, or film quality. We have also demonstrated LumiLor can pass ASTM D3359, where we test the adhesion of the film when the film is damaged through both an X test and a crosshatch. We actually go beyond the test method, and soak the panels in water for 24+ hours prior to applying the tape and testing the adhesion. In all circumstances, a properly applied LumiLor system can pass these enhanced tests without issue. Note that we cannot certify LumiLor to these standards independently. Substrate, application, and topcoat as a system must be tested in order to certify the coating for an application.
Q. What do I need to know about electronics and LumiLor ?
A. Here are some basics about operating and controlling LumiLor Current – LumiLor requires alternating current to produce light; it will not emit light with direct current. Direct current (DC) can be converted to alternating current (AC) with the use of an inverter (sold on our online store). Batteries – Batteries provide direct current which can be converted to alternating current with an inverter. Voltage – LumiLor typically runs on voltage between 100v AC and 200v AC but has the capacity to run on voltage between 80v AC and 400v AC. Frequency – LumiLor typically runs at a frequency of 400Hz to 1000Hz but has the capacity to run at 50Hz and 2000Hz. Inverter – An inverter converts direct current (DC) to alternating current (AC). A small inverter will power up to 1 square foot. A large inverter will power up to 2 square feet. Boost Converter – The boost converter can take 12V DC in and output up to 30V DC. Power Consumption – LumiLor consumes approximately 1 milli-amp per square inch. Electronics and light output – Variances in frequency and voltage affect the brightness and longevity of LumiLor. Car batteries – LumiLor can run directly off of a car battery with the use of an inverter. Special consideration should be taken in designing the electronics (i.e. connecting to a separate fuse).
Q. What about the other EL paint companies ?
A. LumiLor is the only electroluminescent, sprayable, coating which holds multiple patents in 20+ countries and has been developed with over $4 million in R&D funding. LumiLor has a full support staff to help applicators succeed. LumiLor has been working with manufacturers across the automotive, aerospace and various other sectors, and has been successfully tested for adhesion, durability, quality of materials, and consistency in light emission. We are fully aware of companies that are misleading the market with substandard, knock-off products that violate our patents. It's the world we live in, and they are being addressed accordingly. We focus our time and resources on the quality of LumiLor, R&D advancements through strategic partnerships, growing our global network of distributors to reduce cost, and on customer support that is required to make our customers successful. No you can't apply these coatings yourself unless trained professionally as your car's paint may be affected adversely. Please note these coatings are based on a very different technology unlike traditional waxes or polymer sealants. So, unless you are familiar with this technology we strongly advise you take professional training before applying these coatings yourself.